- Tip -
The Lobster Quadrille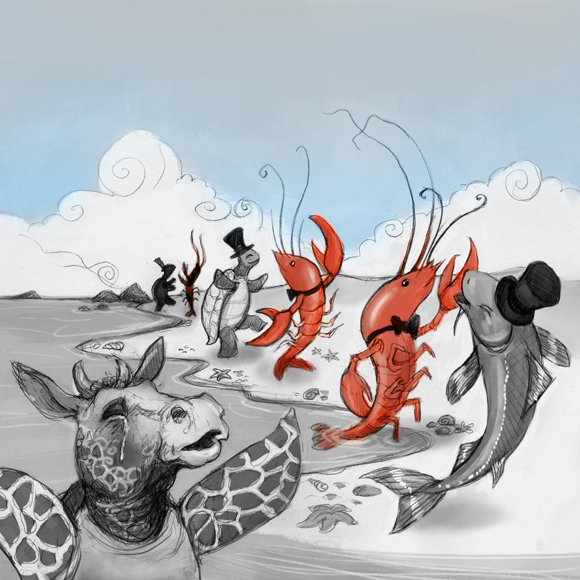 Sometimes a scene in a story comes and goes much too fast!
In Alice in Wonderland, just before the trial over the Queen of Hearts' stolen tarts, the tearful Mock Turtle tells Alice about a game that he and the Gryphon used to play at school, the Lobster Quadrille.  Alice has never spent time living in the sea and has never gone to school there, so this game is brand new to her.
The Mock Turtle tells Alice:
The Lobster Quadrille is a square dance performed along the seashore by couples that each include one lobster.
At one point in the dance, the partner who is not the lobster throws the lobster as far out to sea as he can.
I burst out laughing when I imagine this.  The author wrote these few details and must have felt they were enough.  He moved on with the story.  However,  I like to pause when I read something that makes me burst out laughing.  Often, I like to add something of my own.
Maybe there is a bitter argument about who gets to partner with the slippery salmon.
One of the creatures could be horribly late, desperately swimming to shore before the dance begins.
Tragedy could strike when the lobsters are thrown out to sea—maybe two collide in midair!
New idea:  Expanding a part of another storyteller's story can be as enjoyable as making up stories ourselves.  Characters and setting are all there to play with and move around.  There is no law against this!  Something we already enjoy can be made to suit us even better!